The Thruway Series provides an opportunity for teams from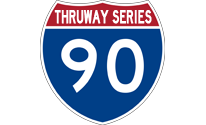 The Empire Amateur Hockey Conference and the Snowbelt Hockey League to experience this great level of play all season, against strong competition in awesome new places and rinks, while still competing in both regular Empire or Snowbelt league play.
2022-23 Thruway Series Canceled
Unfortunately due to the lack of participating teams, there will not be a Thruway Series or Thruway Cup held during the 2022-23 season. We hope to see you again in the fall of 2023!
Rules
2021-22 Thruway Series Rules Updated: TBD
Please note: This season there are changes to period lengths, penalty lengths, fair play point thresholds, and the mercy rule.
Division Pages
Post-Game Reporting
Thruway Cup Tournament
For tournament details, please visit the Thruway Cup page.
Team Contacts
2021-22 Thruway Series Team Contacts
| Level | Association | Contact Name | Contact E-mail | Phone |
| --- | --- | --- | --- | --- |
| TBA | Fall | 2023 | | |
Facebook Page
Like and Follow the Thruway Series on Facebook for additional updates and info!